Timeless Appeal of Board and Batten Siding

Board and batten siding has a long history and gives homes a classic, rustic look. The term "board and batten" refers to the system of the wide "boards" and narrow "battens" that are installed to create this style.
Board and batten siding has long been cherished for its simple, classic aesthetic that never goes out of style. A staple in rural architecture, it has now found its way into the hearts and homes of those desiring a unique blend of rustic and modern design. It's especially common on country homes, barn-style houses, and cottages, but can also be used on more modern and contemporary homes for a unique look.
As a leading provider of metal buildings, metal roofing, and metal siding in Tennessee, we at Watson Metals pride ourselves on our superior quality board and batten siding. Our expert team is equipped with the skill and knowledge to help you navigate your siding options, ensuring that you're selecting the best fit for your project.
Board & Batten Siding for Your Building Project

Why Choose Board & Batten Siding?
Board and batten siding is valued for its distinctive look that fuses rustic and modern styles. Its versatility fits various architectural designs, and it offers broad customization options in board widths and colors. This siding type gives homeowners the opportunity to create a unique facade that enhances their property's aesthetic appeal.
Board and batten siding's durability, particularly when made from robust materials, makes it a practical choice. It stands up well to harsh weather conditions and is relatively straightforward to install. The siding can improve a home's energy efficiency when installed correctly, adding potential resale value due to improved curb appeal.

Common Questions About Board & Batten Siding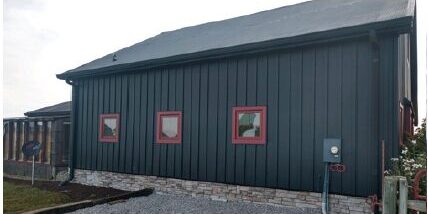 Board and batten siding is a design technique used on the exterior of buildings. It uses wider boards and narrower battens installed in a certain pattern, usually with the boards placed vertically and the battens used to cover the seams.